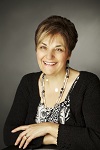 Sioux-Hudson Literacy Council (SHLC) and Good Learning Anywhere (GLA) are proud to announce the recipient of the 2022 Ivy Tabobandung Award for Leadership will be going to Maria Chovaz.
Maria began taking classes with Good Learning Anywhere back in January 2021. Maria completed nine independent courses and live classes through GLA. She wrote her first essay through the Write an Essay course and watched the recordings of the Write Your Story live classes to begin her book. 
Maria was supported by Jaclyne from GLA. Here is an excerpt from Jaclyne's nomination. 
Maria has shown great efforts with volunteering for her community, learning more about the Indigenous Peoples of Canada to be able to advocate for them, and sharing her own story for others to read and learn from.

As a retired grandmother who immigrated to Canada as a child, Maria joined GLA with the goal of improving her writing skills so that she could write a book about her journey to Canada and the various life experiences she's had since her arrival.  

On top of working hard on her GLA courses and writing her book, Maria went through training and is now a Crisis Responder volunteer for her community. She also joined an email group that works with Indigenous people in the area to focus on Truth and Reconciliation on the Island. Maria left GLA after completing courses and live classes that were of interest to her. She registered with the Indigenous Perspectives Society to take their Gladue Report Writer course and embark on a new journey.

Maria's passion to help others and share her story is evident. I really enjoyed working with Maria and look forward to working with her again in the future. 
We want to congratulate Maria for all her leadership and dedication. We also want to take a moment to thank Jaclyne for her support and encouragement. Ivy Tabobandung would be extremely proud of Maria to represent this award.